Sheathing is the supporting structure that acts as a cover for the surfaces of a building. The main function of sheathing is to provide a surface where other materials can be applied to, either on either floors, roofs, or walls of structures. It also provides additional structural integrity to buildings.
Oriented strand boards are increasingly being used by builders for sheathing and have become more popular in the building and construction field. Sheathing is done to strengthen a structure or provide resistance to harsh weather conditions.
OSB sheathing is used in a broad range of applications.
After a careful consideration, the following points will discuss the different uses that oriented strand boards are used for:
Roof Sheathing
Oriented strand boards can be used for roofing the sheath. They are suitable to give structures an even greater natural look. However, using OSB's for roofing can be an issue in some areas because they easily absorb moisture. This reduces the period of its durability from the time of application.
If oriented strand boards are to be used, they should be treated with water and fire-resistant materials. Treated OSB's provide better resistance to moisture and reduces damage in case of a fire outbreak, thus, offering a solution to the problem if exposed to extreme conditions. Builders do not just put up roof sheathing. They consider whether the intended roof is designed to sustain extra weight from roof sheathing.
Flooring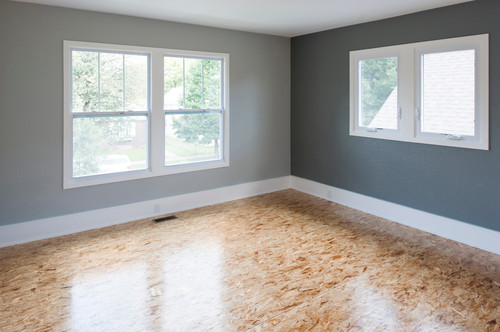 Depending on individual taste and preferences on flooring, oriented strand boards may be a smart option for flooring, although other materials like plywood, tiles, and hardwood flooring are typically used.
If you prefer having a wooden floor, OSB may be a great alternative because it is cost-effective, hence, saving you that extra money than you would had you used other materials like tiles. Oriented strand board floors are made slightly rough to protect people from slipping. A nicely done floor using OSB panels offers a more natural decorative impact to the house.
Interior Wall Sheathing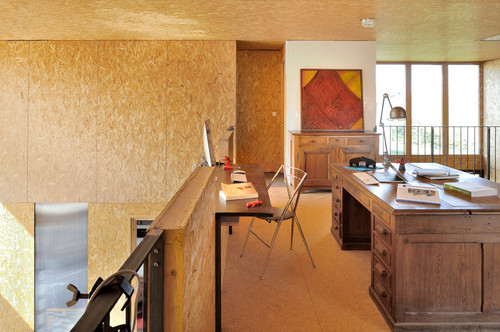 The primary use of OSB when doing an interior wall sheathing is to decorate the interior of a structure like nothing else you have seen. To obtain a modern, warm look, paint or transparent varnish may be applied on the surfaces.
Additionally, using oriented strand board for interior wall sheathing is also used to in place of sheetrock to reduce the transfer of heat and cold conduction, thus, helping to regulate the room temperature. Since OSB's are made of compressed panels, they have no gaps or holes left, like other sheathing materials may have.
Exterior Wall Sheathing
While interior OSB wall sheathing is for decorative purposes, exterior wall sheathing provides a base for decorative capabilities. For more impressive results, exterior-oriented strand board walls are covered with stone or marble. This improves their resistance level to damage by harsh climates.
However, exterior wall sheathing should be installed properly to avoid damage by wind or in areas usually affected by hurricanes. Wall sheathing not only improves tensile strength, but it prevents the building from tilting because it is crack resistant.
Furniture Making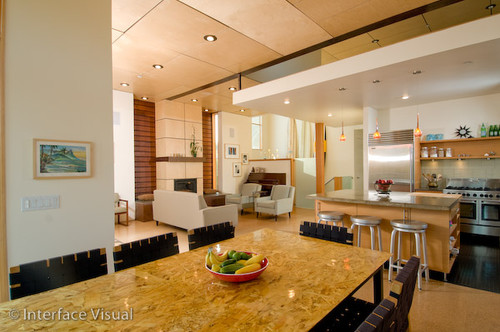 Pieces of furniture made from oriented strand boards give a unique appearance. It is easy to fix and construct furniture like tables, desks, and chairs. Another advantage that makes OSB a more suitable option for making furniture is that it does not require painting.
Furniture made from other materials appears may appear dull, requiring painting for a desirable appearance. On the other hand, using OSB materials to make furniture requires little or no painting but still has an impressive look.
There are also several other uses of oriented strand boards you may not have thought of.
OSB's can be applied in:
Ceiling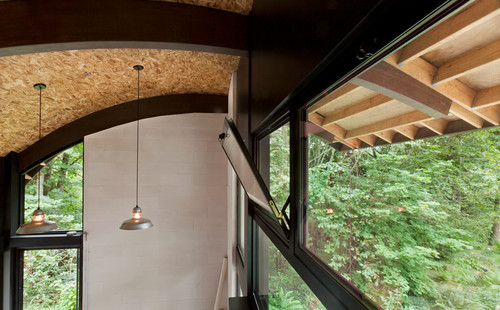 Architects and builders have come up with new ideas of using oriented strand boards as a ceiling. The final touch is unique if professionally done. There are people who prefer to leave the look of  on itself.
This application is creative enough because it gives the house a natural effect and gives an environment-friendly touch.
Art development
Due to its interesting texture, oriented strand board gives a unique finish because the wood layers are visible. This has led to an increased number of artists adopting it to use it as a canvas because it is a unique choice of painting material. The resulting works done using OSB's have surprisingly turned out to be just as unique as the OSB itself.
Professional artists do a great painting using oriented strand boards. It brings out a higher level of creativity when paintings are done on OSB's.
Doing van fit-outs
Oriented strand boards can also be used to do van fit-outs. It can be either the floor or sides of a van. However, not all oriental strand boards are applicable because their durability would vary. Depending on different weather conditions, different grades of oriented strand boards may give varying results. Different grades are engineered and classified for varying places of application.
Van out-fitting done using oriented strand boards are cost-effective, making them more affordable. It also makes it easier to handle when doing regular upgrades.
Worksite Boarding
Temporary fences made of oriented strand boards are put up in areas where site construction activities are ongoing. They are simple to put up. OSB use in site boarding is common in these areas, and it plays several roles.
It helps to control and prevent unauthorized access in sites and protects the public from dangerous building works. Additionally, apart from construction sites, these hoards can be constructed in other places and used for advertising, brand recognition, giving directional messages, and enticing customers.
Making of Industrial Containers
Oriented strand boards are ideal for crating in industrial packaging. It is more versatile and also less costly, making it efficient to make containers. It is made without other hardware like clips, nails, and screws. Therefore easier to assemble and maintain.
These containers are also re-usable because OSB's durability is great. This saves extra packaging material costs.
Conclusion
Building a home is a crucial process. Sheathing is essential as it offers great structural appearance and strength and contributes to proper building insulation. Using oriented strand boards in sheathing brings out an admirable look of a building.
A strong bond is available in studs when using oriented strand boards because they hold fasteners quite well. Application of OSB is also suitable when constructing larger structures because they manufacture a variety of lengthy sizes.
Let us be your edge in this ever-changing competitive market.
We dig deep to find the deals you need to help your business grow. We provide these deals in two ways for you to access. Our Web Specials are posted regularly here on our website. Our QuickBuys 2.0 offers email notifications and soon, an app for you to get in on the offers as they are announced.